NEW RHR SPEED DARTS
OUT OF OUR HEADS TV SHOW BY THE PRESIDENT OF RHR
Click here to view the NEW TV Show by our very own Dean Gould.
To view previous shows Click here
RHR RECORD HOLDERS IN THE NEWS
Galpin, Capo, Doyle, Throwdini, Lovell, D. Gould interview, Richie Magic attempts Cigarette Snuff Record, Roy Maloy DVD, Alicia Weber "The Machine"
WORLD RECORD VIDEOS
Beermat, Triple Crown, Head Balancing, John Evans in Hong Kong, Thomas Blacke Vegas Morning Blend, AliciaAndClan, Pete Tino "The Human Floor", Richie Magic, Jakarta (Part 1), Jakarta (Part 2), Jakarta (Part 3), Bed of Nails, Tallest Stilts, Stilt Walking, Heaviest Weight on Whilst on Stilts
WORLD RECORD INDONESIA TRANS 7
Video 1, Video 2, Video 3, Video 4
Lion Dance at the Martial
Arts show
Dr. Yuree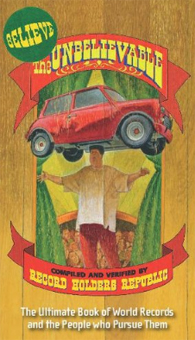 Out Now!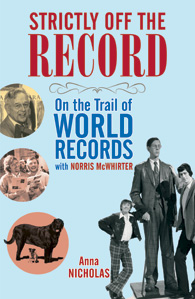 Anna Nicholas Biog
MACMILLAN'S REMARKABLES TAKE 3 WORLD RECORDS
Watch Ultra Man's Hot water bottle burst World Record
Watch Ultra Mans Sumo Dead Lift World record
Watch Mrremarkableman Burst 100 Hot Water Bottles
Zumba World Record 12th June
THE MARTIAL ARTS SHOW "LIVE"!
"It's Worth Fighting For!"
The National Exhibition Centre, Birmingham on the 7th & 8th of May 2011
MACMILLAN CENTENARY
World Championship Record Breaking Day
THE MCWHIRTER FOUNDATION
The McWhirter Foundation are an apolitical charitable foundation, formed to promote, recognise and reward acts of outstanding courage and good citizenship and to generate thought and debate amongst sixth formers on a particular issue of moral, legal or social significance which explores the importance of good citizenship and individual freedom within the rule of law.
WORLD RECORDS — RHR's Mission Statement
The mission of RHR is to standardize, authenticate, register, and organize official world records with respect to time, distance, and amount. Authenticated records appear in our on-line searchable database and will soon to appear in RHR's Believe The Unbelievable. An attractive Official World Record Certificate is available to all record holders.
MAKE IT OR BREAK IT ® PROMO
TO ENQUIRE OR SUBMIT A RECORD
There is NO FEE to submit a record. A Pre-Record Submission Application must be completed and approved before attempting to set or break a record. Once completed a Submission Form with full documentation is required. RHR lists some records, by permission, in partnership with several other world record associations.
MOST RECENT RECORDS
Strictly Off the Record Book Launch
Anna Nicholas, Strictly off the Record, Norris Mc Whirter Book Launch Sept 15th 2010.
Norris Mc Whirter Book Launch, Strictly Off The Record by Anna Nicholas, Author and RHR Vice President.

From left to right. Jamie Mc Guire, Anna Nicholas RHR Vice President, Peter Dowdeswell, Vice President, Chris Greener 7ft 6, Sooty, Dean Gould RHR President, Nigel Jardine and Haley Rilings